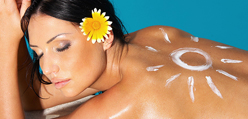 Cleansing combined with the Strawberry – Rhubarb Dermafoliant (gently exfoliates and removes impurities to brighten skin and shrink pores. Moisturizes and regenerates.)
Exfoliating with our Pineapple Enzyme Peel (packed with powerful enzymes and active ingredients like Vitamin A, C and B1: exfoliating and revitalizing the skin.)
To increase the effect of the cleansing and exfoliating steps we use our New Ultrasonic Spatula (the new generation of microdermabration or what is being called soft peeling).
Toning with a skin-type specific organic toner (infuses the skin with strengthening electrolytes, vitamins, minerals. It has pH balancing effect.)
Nourishing the skin with Lime Stimulating Masque (supplies Vitamin C and minerals to the skin; increasing the stimulation and oxygenation of the skin.)
Face, neck and decollate Massage with Citron Age –Defying Massage Souffle (tones, revitalizes and repairs the skin. A powerful "Lifting and Firming" Massage Cream)
Finishing Products: a skin –type specific Toner, Daily Moisturizer and Sun Protection.
Your skin is detoxified and ready for the summer.